State Representatives Blaine Wilhour (R-Beecher City) joined fellow members of the Illinois Freedom Caucus in the General Assembly to host a program about what is causing the high electric and energy prices that are negatively impacting families and businesses all across central and southern Illinois. The free event took place from 6:00 – 7:30 p.m. at the Thelma Keller Convention Center in Effingham on Thursday and included representatives from Ameren to answer questions about utility bills for customers.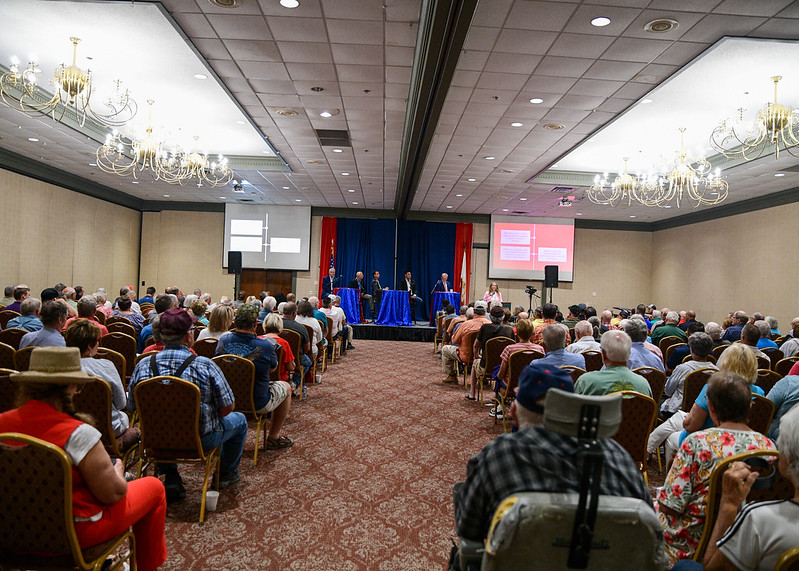 "People are fed up with bad policies coming out of Springfield by Governor Pritzker and the extreme liberal majority who are pushing mandates to close our local energy supply of coal and natural gas resources and move entirely to only wind and solar by 2050," said Rep. Blaine Wilhour. "Limiting the amount of power available from local plants is forcing consumers to pay higher prices for energy that then has to be purchased from other states and transferred in to Illinois homes, schools, hospitals and factories."
The Energy Town Hall included presentations from Vistra Energy, the Association of Rural Illinois Electric Co-Ops, the Illinois Manufacturers Association, and the Illinois Chamber of Commerce.
Rep. Dan Caulkins provided an explanation of the Climate and Equitable Jobs Act (CEJA) enacted on September 15, 2021 that imposes mandates on closing natural gas and coal plants that produce energy in Illinois and push for one million electric vehicles in Illinois by 2030.
Joined by Rep. Chris Miller (110th), Rep. Brad Halbrook (102nd), Rep. Dan Caulkins (101st), and Rep. Adam Niemerg (109th), Rep. Wilhour helped to facilitate an in-depth discussion and a question & answer session with the nearly 200 attendees. "This is the kind of event we need to continue to have around the state and people need to become informed and engaged in the legislative process to correct the current negative policies," added Rep. Wilhour. "The Governor needs to renegotiate CEJA to lift emissions caps, stop the closure of coal plants while the Illinois Environmental Protection Agency and the Illinois Power Agency need to be convinced to help stop these closures that are driving up energy costs unnecessarily."