State Representatives Blaine Wilhour (R-Beecher City) would like his constituents in the 107th district to know about the "Museums in the Park" program available for the 2021-22 season. Any constituent, and up to three guests, may use Rep. Wilhour's Constituent Education Resource Card to receive complimentary General Admission to twenty-six museums, zoos, garden and aquarium in the Chicago area.
"As families emerge from the lockdowns and restrictions from the past fifteen months, I'd like to encourage everyone to consider visiting not only the museums and attractions in our area like the Historic Vandalia State House, but the many world-class museums in the Chicago area with my personal pass," said Rep. Blaine Wilhour. "Those institutions are opportunities for you, your children and grandchildren to enjoy and explore the arts, sciences, nature and culture."
The following institutions are participating in this program:
Adler Planetarium The Art Institute of Chicago
Brookfield Zoo/CZS                                                   Chicago Academy of Sciences/Peggy Notebaert Nature Museum
Chicago Botanic Garden                                            John G. Shedd Aquarium  
Chicago Children's Museum Chicago History Museum
DuSable Museum of African American History The Field Museum
Illinois Holocaust Museum & Education Center Lincoln Park Zoo
Museum of Contemporary Art Museum of Science and Industry
National Museum of Mexican Art                                National Museum of Puerto Rican Arts & Culture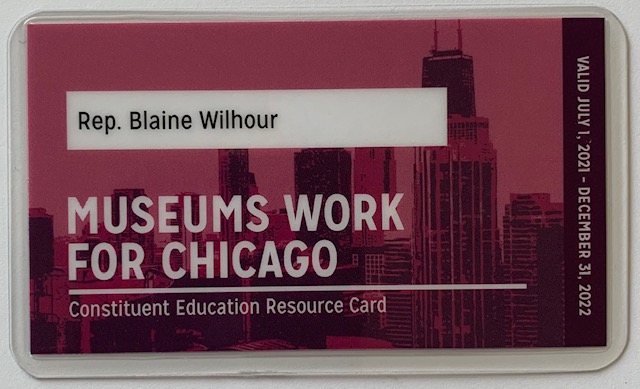 The Resource Card provides admission for the cardholder plus three guests when presented with a signed letter from State Representative Blaine Wilhour. The card is valid until December 31, 2022.
For more information and to reserve the use of the card, please contact the district office at 217-994-9348.