Make your plans now to bring your children and grandchildren to experience "Voices and Votes: Democracy in America" at the Bryan-Bennett Library in Salem from August 28th through October 2nd. This unique traveling Smithsonian Institution exhibit is part of the "Museum on Main Street" program bringing America's history to the people who cannot travel to Washington, D.C.
In conjunction with the Illinois Humanities Council, there will be additional displays on local leaders like William Jennings Bryan, on honoring the passage of the 19th Amendment and Women's Suffrage, and a combined exhibition of the Illinois Freedom Project which covers the story of slavery to freedom in Illinois.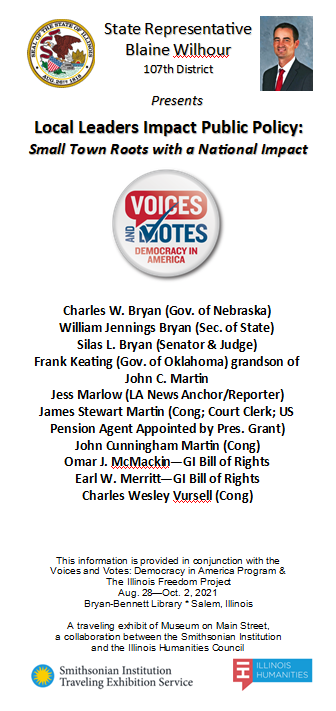 This FREE exhibit is a wonderful experience for families, students, and civic organizations. More information can be found HERE. Send questions to: VVexhibit.Salem@gmail.com or call 618-548-3006, etx. 2.