On Wednesday, Rep. Blaine Wilhour (R-Beecher City) rose on the House Floor to offer House Resolution 766 (full text of the resolution at ilga.gov) for consideration to honor Shirley Ann (Kramer) Hall for her 79 years of active, continual service with the American Legion Auxiliary. The resolution passed unanimously on a voice vote.
In the Speaker's Gallery above, Shirley Hall listened as Rep. Wilhour talked about her patriotism and commitment to service to veterans, their families, and the community.
"Today we are here to recognize and honor a woman who is a role model for patriotism and community service…Shirley Ann (Kramer) Hall who is serving her 79th year of continuous, active membership in the American Legion Auxiliary.
Shirley has every membership card from every Auxiliary Unit she has been a member of and continues her service even today as the Historian of the Luther B. Easley Post 128 American Legion Auxiliary in Salem, Illinois.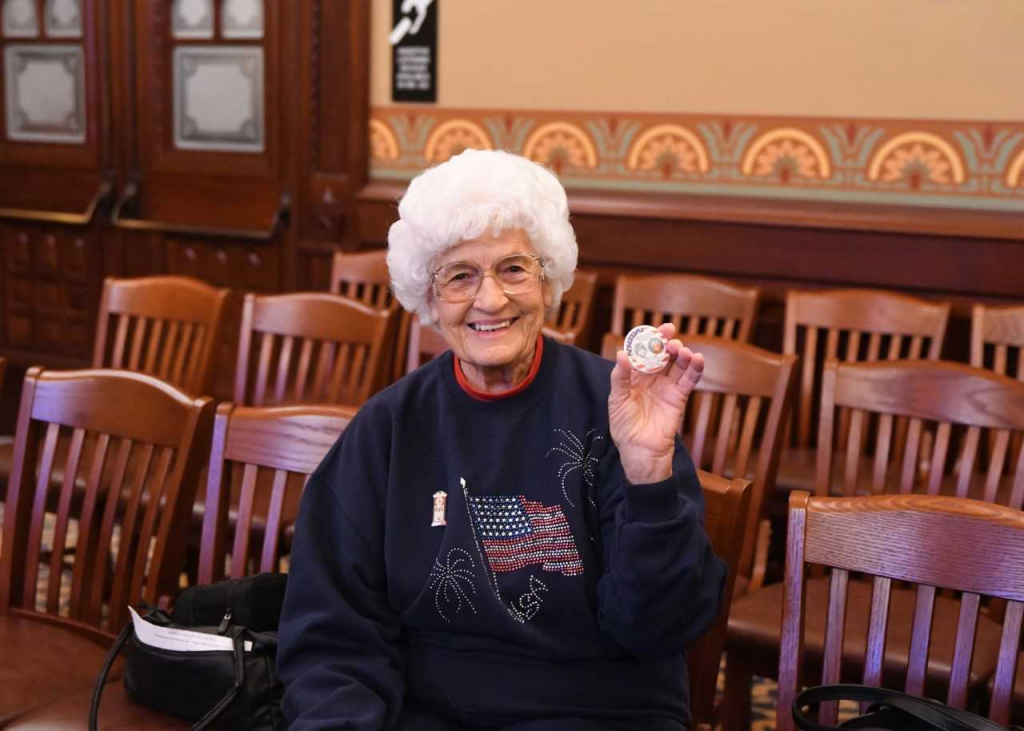 Shirley joined when she was just 9 years old in 1941 at the American Legion Unit 446 in Centralia, Illinois under the American Legion membership of her father's service in World War I. Whether making tray favors for veterans in nursing homes or collecting donations every year for Poppy Day, whatever she can do to support the American Legion and our veterans, Shirley is right there to help and contribute.
Thank you to Department of Veterans Affairs Director and our former House colleague, Linda Chapa LaVia, for her help and support in honoring Shirley. Our research indicates that Shirley Hall is the longest serving American Legion Auxiliary member in Illinois history.
Shirley was accompanied by a number of special guests including:
*Sue Coughlin, the Illinois State President of the American Legion Auxiliary and Member of the Billy Caldwell Unit American Legion Auxiliary in Chicago
*Roy Weber, the Illinois State Commander of the American Legion
*Salem American Legion Auxiliary officers Beth Harrell and Pam Deckard – Luther B. Easley Post 128
*Salem American Legion Commander Harold Kocher and Legion Officer Roger Harrell – Luther B. Easley Post 128
*Al Coughlin, Past Department Vice Commander and Ninth District Finance Officer- American Legion; Billy Caldwell Post 806 of the American Legion located in Chicago
*Jim Kostka, Ninth District Sergeant-at-Arms and Junior Vice Commander- Billy Caldwell Post 806 of the American Legion located in Chicago
*Marion County Soldiers' & Sailors' Reunion organizer Mark Decker
Also joining the ceremony online through the internet, were Shirley's family in Maine who were unable to make it in person today but are as proud as we are for the example she sets as a community volunteer.
In the spirit of Service, Not Self, the mission of the American Legion Auxiliary is to support The American Legion and to honor the sacrifice of those who serve by enhancing the lives of our veterans, military, and their families, both at home and abroad. For God and Country, they advocate for veterans, educate our citizens, mentor youth, and promote patriotism, good citizenship, peace and security.
Please join me in saying thank you and keep up the good work for our veterans and community to Shirley Ann (Kramer) Hall."