State Representative Blaine Wilhour and Senator Jason Plummer are partnering to host a free Senior Health and Information Fair on Aug. 6 in Salem. Each event will be held from 9:00 to 11:00 a.m. at their respective locations in Salem and Effingham.
The Salem Senior Health Fair will be at the Salem Community Activities Center (416 East Oglesby Street). Seniors may receive helpful guides, literature and other resources from a variety of state, county and local senior service agencies. General Assembly staff will be on-hand to assist constituents with their state government concerns.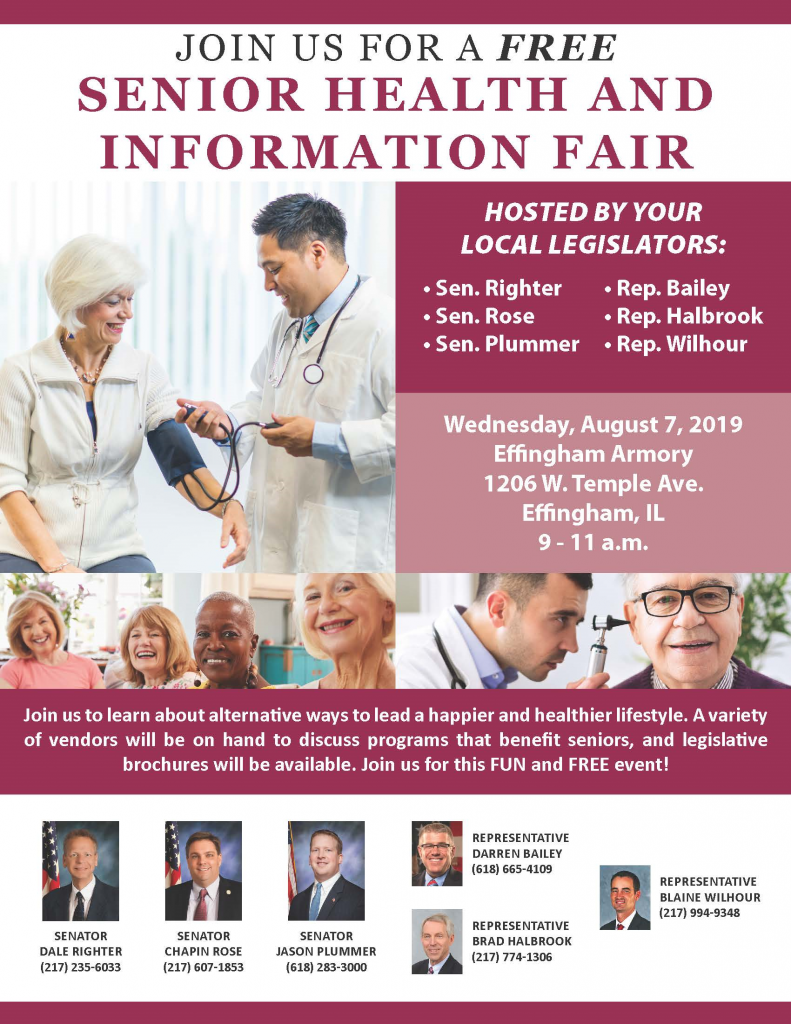 The Effingham Senior Health Fair will be at the Effingham Armory (1206 W. Temple Ave.) and will include additional area legislators including Senators Chapin Rose and Dale Righter and Representatives Darren Bailey and Brad Halbrook. There will be more than 60 vendors at the Effingham Armory to provide free screenings and helpful information to area seniors. Medical screenings being provided include: pulse oximetryscreenings, bone density and grip strength testing, blood pressure testing, and cholesterol and blood sugar screenings.
No registration or entrance fee is required. All attendees will be entered into a drawing for special door prizes to be awarded just prior to the end of the event.
Attendees are encouraged to stop by, enjoy free refreshments and explore the wide array of information and services available for area seniors. Participating vendors will be offering information on a number of topics.
For additional questions or concerns, feel free to reach out to Rep. Wilhour's office at 217-994-9348 or Sen. Plummer's office at 618-283-3000.