Thank you to Jody Roper and Dennis "Alex" Pracht for visiting the Capitol this week from Kaskaskia College (KC). They are members of the KC Veterans Club. I appreciate Ms. Carrie Hancock for all of her help as the Coordinator of Veterans' Services at Kaskaskia College.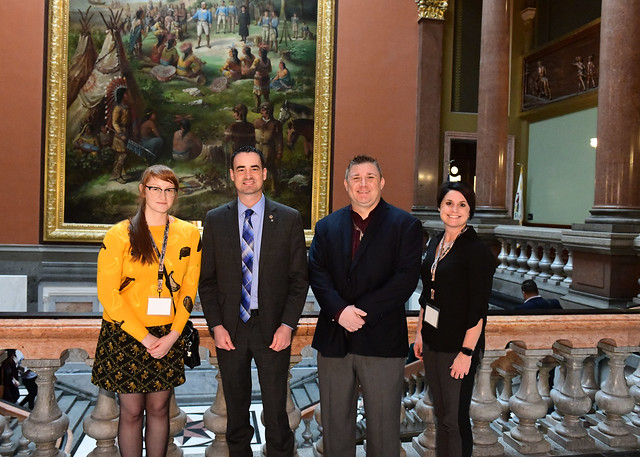 Jody Roper – U.S. Marine Corps served the USMC for 8 1/2 years. She joined the United States Marine Corps March 13, 2006, and went to boot camp at Marine Corps Recruit Depot Parris Island, SC, and Marine Combat training at Camp Devil Dog in North Carolina. She attended school to become a Correctional Specialist at Lackland AFB in San Antonio, TX. From there she went to her first duty station the Marine Corps Base Brig on Camp Lejeune, NC. She then went to Okinawa Japan, in 2010, and was stationed at Camp Hansen. In late 2010, she became the Funds and Valuables/ Health and Comfort Custodian, where she was responsible for all the prisoner funds. In 2012, she was sent to attend school in San Antonio, TX, to become a Correctional Counselor, my responsibilities were to do initial prisoner interviews, weekly interviews, group counseling sessions, help them transition back to society, etc. She held that job for the remainder of her orders overseas. In 2013, she left Japan, and went to Marine Corps Air Station Miramar, CA. There she served as a Correctional Specialist. She was honorably discharged from the Marine Corps September 22, 2014.
Ms. Roper is currently double majoring at Kaskaskia College in Culinary Arts and Business. She is a very active member of the KC Veterans Club as well as other clubs and events on campus. Her instructors and administrators value her opinion. She is an active member of the Centralia chapter of BPW. She hopes one day to open her own restaurant.
Dennis Alexander Pracht (Alex)- U.S. Army Dennis enlisted in the Army National Guard on November 13, 2000. While in the Army National Guard, he received numerous awards including: Combat Infantry Badge, Combat Action Badge, Bronze Star Medal, Purple Heart, Meritorious Service Medal, Army Commendation Medal (3 times), Army Achievement Medal (4 times), Afghanistan Campaign, Iraq Campaign, and the Abraham Lincoln Presidential Medal of Freedom (2 times).
Mr. Pracht etired from the US Army on November 29, 2011 as a Staff Sergeant/E6. Dennis is also a very active member of the KC Veterans Club. He graduated with an Associate of Arts degree from KC in 2011. He then came back to pursue one of his passions and has since also graduated with is Associate of Applied Science degree in Criminal Justice. He is continuing his education at KC to eventually join the nursing program as he recently has found that from his military experience that he has a compassionate heart to help others.